---
INTERNATIONAL RECORDS MEET
Dr. Biswaroop Roy Chowdhury present as a guest of honour along with Mr HunViRak – Organization of the Kingdom of Cambodia,Ms Grace Kuppa – India Records Organization, Mr Ong Eng Huat – Singapore Record Organization,Mr Deepak Chandra Sen – Nepal Record Organization, Mr Osmar Semesta Susilo – Organization of Indonesia Record, Mr Surjit Singh – Brand Ambassador (Indo Vietnam Medical Board), Ms Maria Georgina Limboc – Thailand Record Organization, Ms. Puttachat Suriyawong – Thailand Record Organization,Ms Jessintha Kuppa – Asia Record Organization, Ms Santosh Singh-World Records University on 9th September 2019 in Ho Chi Minh City, Vietnam.
[metaslider id="4761″]
---
DAY 1
On August 26, 2018, Ho Chi Minh City, Vietnam witnessed an inspiring and delightful Awards Night. Thousands of participants from over ten countries, and record holders from various categories, like The Strongest, The Shortest, The most Glamorous, The most Talented were felicitated. Adding to the glory, Honorary Doctorate Degrees were conferred on candidates of the World Records University, where delegates from India and as many as eight other countries including Indonesia, Bangladesh, Nepal, Cambodia, and Hong Kong were honored. Dr. Kan Lakhani of Hong Kong graced the event with his presence and conferred Honorary Doctorate Degrees to the candidates of the World Records University. The Award Night sparkled with the presence of eminent personalities like Dr. Gulab Tewani, Indian Health Researcher and Prof Dr. Hoang Quang Thuan, President of the Institute of Telecom Technology and the Founding President of the Vietnam Book of Records.
---
DAY 2
The International Chief Editors Meet held on the following day, August 27, 2018, brought together the chief editors of record books from more than ten countries, including the US, Bangladesh, Nepal, Indochina, Cambodia, and Vietnam. The conference was glorified by the presence of Mr. David Moline, General-Secretary of USA Records Organization, Mr. Le Tran Truong An, Ms. Nguyen Hoang Anh (Julia Nguyen) and Ms. Aylawati Sarwono, representative of Museum Rekor Dunia, Indonesia. This goal-oriented, strategic meeting paved new paths for advancement in the world of records, with emphasis on the record holders in particular. The prime objective of this meeting was to work in unison, making the record fleet more uniform and granting privileges to record holders. The initiative and foundation of the 'Record Holders Club', the head office of which is located in Jakarta, Indonesia, was laid by MURI (Indonesia Book of Records) and was one of the most significant outcomes of the meeting. It was also decided that the Top 100 record holders would be given a number of exclusive benefits when traveling to the countries which are a part of this treaty.
---
[metaslider id="4282″]
---
[metaslider id="4295″]
---
[metaslider id="4306″]
---
[metaslider id="4317″]
---
[metaslider id="4336″]
---
Golden Disk Award-2017
---
D. R. Karthikeyan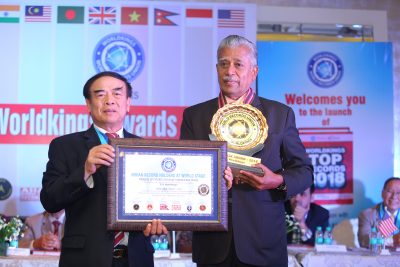 D. R. Karthikeyan the former Director of the Central Bureau of Investigation, and the Director General, of National Human Rights Commission was born to an agricultural family in a small village of Coimbatore District, Tamil Nadu.
He is a Law graduate from Madras Law College in addition to B.Sc. degree in Chemistry and Agriculture from Annamalai University. He joined the Indian Police Service (IPS) in 1964, after passing the Combined Competitive Examinations for Senior Civil Services, in 1964.
He headed the Special Investigation Team that probed the Rajiv Gandhi assassination case and zeroed in within three months. At the invitation of INTERPOL, France, he made an audiovisual presentation of the investigation before an assembly of top police officers, who commended Mr Karthikeyan for the model investigation.
He was awarded the Padma Shri in 2010 for his contribution to the field of Indian Civil Services. He was the First Secretary in the Embassy of India, Moscow, Russia from 1974-1977. He was stationed in Sydney Australia from 1985 to 1989, to promote Indian exports to Australia, New Zealand and Fiji.
He has held various offices as Deputy Commissioner of Police, Law and Order, Bangalore, Deputy Inspector General of Police, Karnataka State Intelligence Department, Head of Karnataka State Police Academy, Inspector General of Police, Central Reserve Police Force (CRPF), Southern Sector, Hyderabad, First Secretary in the Embassy of India, Moscow, Russia (1974-1977), Embassy of India, Sydney, Australia (1985-1989), promoting Indian exports to Australia, New Zealand and Fiji, Director, Central Bureau of Investigation (1998), Director General, National Human Rights Commission, President (Age-Care India, New Delhi).
He led a group of "Yatris" (pilgrims) on a month-long trekking to Kailash-Manasarovar, the holiest of holy places for Hindus, Buddhists and Jains in Tibet-China. He also visited Jerusalem, the holiest city for Christians and Jews and the second holiest place for Muslims.
Cherukuri Dolly Sivani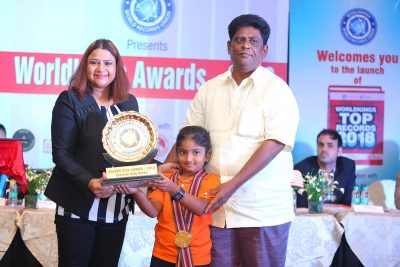 Cherukuri Dolly Sivani, born on April 2, 2014 in Vijaywada, Andhra Pradesh to Cherukuri Satyanarayana and Cherukuri Krishna Kumari is the 'Youngest Archer of the World'.
At the mere age of 2 months when all the kids are in their own world, just giving lopsided smiles here and there and not even aware of the surroundings, Cherukuri Dolly Sivani was getting trained to be a 'World Class Archer' by her mother. The reminiscence of her mother is not only surprising rather inspiring for all of us, that her training started in as early as when she was in the womb like of the tragic hero of the Hindu epic, Abhimanyu, the son of Arjuna and Subhadra, when he was in Subhadra's womb.
She got the training about Bow Draw, Stretching and Field knowledge from the age of 2 months to 10 months from her mother and later by her coach Chandra Sekhara Laguri.
Presently, she's studying in U.K.G. and has created 'India Book of Records' and 'Asia Book of Records' just at the tender age of 3 years and has again duplicated her feat in a different category for both 'India Book of Records' and 'Asia Book of records' just after 3 months.
She secured Gold medal at national level in ' Cherukuri Lenin Volga Memorial 1st Kids Archery National Championship', Vishakapatnam, Andhra Pradesh' in 2016 in 5 year age group. She had exhibited her talent twice at IGT Colours Archery Show in front of the Miss World Ashwarya Rai and other judges at Mumbai in 2016.
Dr. Sundeep Kochar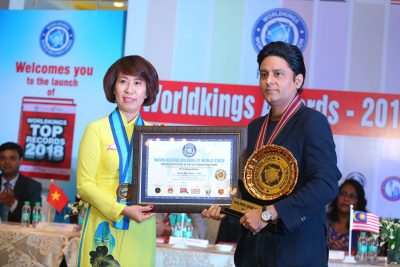 Dr. Sundeep Kochar the Nostradamus of India is an Internationally renowned celebrity Astrologer, a Vastu Consultant, Motivational Speaker, Life Coach, Actor, Anchor & Author;
He is the only Indian Astrologer to accurately predict Barack Obama's and Donal Trump's US election win. The only astrologer to read the horoscopes of 'President of India' at Rashrapati Bhavan' in addition to being a personal astrologer to many renowned ministers and dignitaries in India as well as on international platform.
A recipient of International Achievers Award, Super Achievers Award, Master of Wisdom, Pride of India, Glory of India, Brand Ambassador of Astrology, Flag Bearer of Astrology-2016, Aapna USA's Parasara Award is a record holder with 'India Book of Records', 'Asia Book of Records' and Limca Book of Records' in addition to being the mentor to 'INIFD' and 'Miss India Worldwide' and many other institutes and organisations of international repute.
He has done many world-wide TV shows as 'Guiding Star' on ARY Digital (Dubai), 'Bach Ke Rahna' on Zee News, 'Kismat Ke Sitare' on Zee TV and many others. His 'Kismat ke Sitare' is the first in TV history to complete 2740 episodes and again first for being viewed in more than 120 countries. He is the only Indian astrologer to be interviewed live by 'Fox Radio' US.
He has given interviews & done live shows for numerous radio stations & TV channels in India & overseas. He is the only astrologer from India who has been interviewed live by Fox Radio US, for his correct predictions regarding Barack Obama's 2nd term as President of United States of America.
He is a keen learner and pursuing a Mphil in Astrology, though already felicitated with an Honorary Doctorate Degree from a U.K based university.
Sri Sri Aryamaharshi (Kidney donors)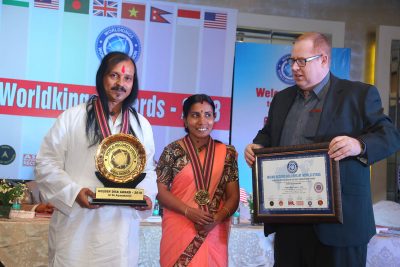 Yes, miracle happens, but sometimes the human deeds surpass them and become idols for the human race for the generations to come and to be imitated and finally emulated. It was for the first time in the human history, that the couples donate their kidney on the same day to the strangers with no strings attached and with no avidness.
Sri Sri Aryamaharshi (born on March 20, 1965) and his wife Simi M. S. (born on December 26, 1976), resident of Thrissur, Kerala donated one kidney each to the strangers on May 20, 2014, in Medical Trust Hospital, Ernakulam. His feat was recorded by 'India Book of Records'.
The surgery was conducted by Dr Mammen M John (Nephrologists') and Dr Ravikumar (urologist) in transplantation surgery at Medical Trust Hospital, Ernakulum, Kerala.. The surgeries were conducted on the same day ie. May 20, 2014 by Dr Mammen M John (Nephrologists') and Dr Ravikumar (urologist). Noble Jose from Thuravoor, Angamaly was the recipient of Sri Sri Aryamaharshi's kidney and Jeeva C Chrisus from Poonthura, Thiruvananthapuram was the recipient of Simi's kidney. Both were the strangers and from very poor families.
Sri Sri Aryamaharshi is the founder of Aryalok Ashram at Agathiyoor. He is a keen social reformer to promote organ donations and observes Ramadan fast to spread the message of organ donation.
Ms. Yashmeen Chauhan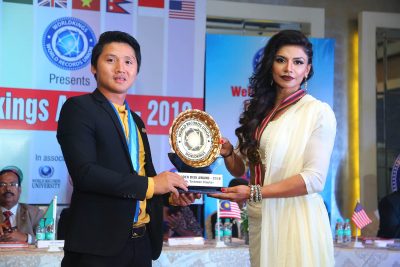 Ms. Yashmeen Chauhan, an alumna of Delhi University, the Miss India 2016, the Founder and Owner of SCULPT Gym, the Certified Fitness Trainer & Consultant is a perfect trend setter of power, strength, endurance and body building.She has won Miss Asia, Bronze medal at the 50th Asian Bodybuilding & Fitness Miss India Championships in 2016. She is the winner of Miss India 2 Gold medals in the Physique and Fitness categories at the 'Indian Body Building & Fitness Federation (IBBFF)' including Miss India 2016, at International Federation of Bodybuilding & Fitness (IFBB). She is felicitated with Gold Medal at Miss Uttar Pradesh in the physique category and has won 2 Gold Medals at the 'Delhi State Power Lifting' competition which is affiliated to 'Indian Power Lifting Federation'. At the 'Body Power Fit Factor, Miss India 2015', she bagged the Silver cup and won the 'Best Body' award at the 'Gladrags Mrs. India 2005'.
She can be consulted at her social media platforms. She is available on Face book and Instagram where she suggests, advises, instructs and educate people including men on exercise, fitness, body building, diet & nutrition and sports supplementation. She's an expert in Dance Aerobics, Step Aerobics, Kickboxing, Kettlebell, and Pilates to name a few.
Who can believe that a fat teenager owing to the treatment of a life threatening disease, being humiliated by friends and others, depressed by her own self can go such a long way, from a free lance group class instructor in 1998 to a renowned fitness Guru who has done more than 30 fitness shows for Delhi Doordarshan's Sports Channel and more than 50 fitness shows for the private channels including NDTV news, in addition to organizing workshops at Orthopedic departments of various hospitals for helping patients from alleviating their pains to prehabilitation and rehabilitation.
Dr. Srimathy Kesan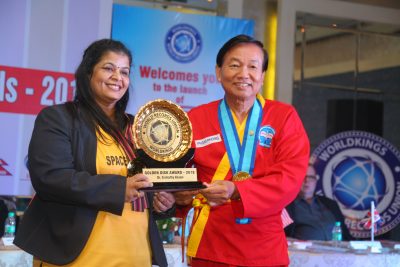 Dr. Srimathy Kesan, the Founder & C.E.O. of 'Space Kidz India' (SKI), an educational evangelist, dedicated to inspire and channelise young minds to an untapped avenue known as 'Space Education' is relentlessly working with a dream and a mission to produce World renowned scientist through her Aerospace research University, one day.
SKI has been appreciated and featured on local and national media numerous times.. Dr. Srimathy's accomplishments along with kids are published now and then by major newspapers and magzines.
She has been honored with an ambassador status by Euro Space Center, Russian Space Center, and NASA. She has been frequently nominated as 'Pioneer' in the field on 'Space Education'.
She is bestowed with Multifarious awards nationally as well as internationally with 'Pride of India', Women Icon 2017, Innovative Educationalist 2017, Role Model of the year – 2016, Young women achiever, Women Achiever of the year 2014, 2015 & 2016, Indian Icon 2015, Best Woman Entrepreneur, Leading Woman Entrepreneur, Naari Shakthi, Chennai Super Mom along with being awarded as Social Entrepreneur for year 2013, 2014 and 2015.
She holds an MBA in Tourism Management along with an Hon. Ph.D. She was a National Cadet Corps, cadet and had been awarded the 'All Round Best Cadet' and 'Best Para Trooper' of Andhra Pradesh. She was a state level athlete in Javelin, Shot put and Relay and had represented the State Andhra Pradesh in 10 basket ball Nationals.
Dance Smith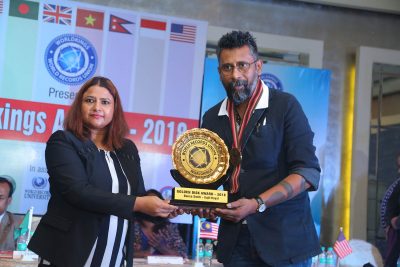 Dance Smith Performing Arts Pvt. Ltd., the brain child of Sujit Kayal, the founder & creative head of the India's No. 1 Performing Arts Company, specializes in Bollywood and Wedding Entertainment Shows. It was incepted in September 2012,
It is the India's Leading Performance and production company into innovative Bollywood style engendered by blending Indian Classical and Indian Folk including Kathak, Bharatanatyam, Odissi, Chhau, Bhangra, Garba, Lavani, Bihu and many other Colours of Indian dance forms. It has given more than phenomenal 2100+ mega shows and has become the pioneer of Bollywood stage performances in India and abroad with more than 2200 dancers. It has scaled many milestones and soared up to new heights by setting 5 national records in various section of 'India Book of Records' for performing in Most Cities, Most Shows, Most Travelled, Most Venues and For Most Clients, along with Limca book of Records for performing the highest number of shows.
They are proudly setting new benchmarks and higher standards every time, for Stage Entertainments by placing Well-trained Dancers, Unique Props, Amazing Costumes and Grand Presentations.
They are the only Bollywood troupe to receive certification from ISO, OHSAS and We Care. They are the members of CID/UNESCO 'The International Dance Council' and of EEMA 'The Event & Entertainment Management Association'. Their motto is to 'Deliver the Best, to be the Best' as they are pledged to write many more success stories.
Dr. Narsingh Lal Bansal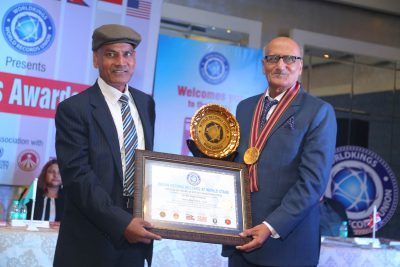 Dr. Narsingh Lal Bansal, born on January 27, 1948 in Nariana village of Panipat district in Haryana, a well known respectable face in Vastru Shastra, an expert in geometrical science is the founder of 'Bansal Vastu Research and Coaching Centre'.
He is a prolific writer and has compiled more than 70 books on various aspects of Vastu Shastra and Vastu, Fengshui . His books are the globally best sellers whether it's on national platform or international one. Even at the age of 70 years, he is a work alcoholic person and still use to work 15 to 16 hours daily before calling it a day. His books create an aura of positivity, peace, harmony, health, prosperity and vitality in our lives.
He is the most searched Vastu Shastra consultant and provides consultancy to various factories, institutions, homes and all types of other residential and commercial places. His valuable suggestions, advice and expertise make your business and home a peaceful and result oriented place without much modification or changes. He also provides consultancy in color therapy and mirror therapy. He is a treasure trove of knowledge and can skillfully suggest changes that would lead to miracles without major alterations at home or office.
Presently, he is based at Sonipat, Haryana and provides consultancy along with imparting his life-long knowledge, learning and experience to his disciples. He can be reached via his website.
Major Abhayjit Mehlawat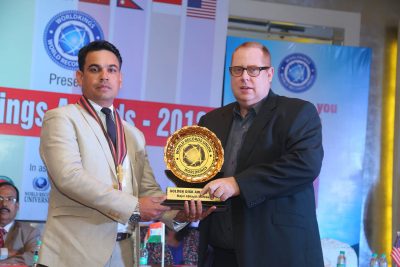 Major Abhayjit Mehlawat , born on February 20, 1983, a known face as a Dare-Devil on motor-bike, has made his unique place in Guinness Book of World Records, Limca Book of Records (World Category), Asia Book of Records, and India Book of Records. Setting and breaking records has become his daily routine.
Major Abhayjit an Officer with Indian Army is a professional engineer with B.tech in Electronics & Communication along with an MBA. He is a Gold Medalist from the 'Indian Military Academy' for being first in merit during his technical graduation. He is awarded with special commendation card from Chief of the army staff along with a commendation from DG Signals in 2013. In 2015 he was felicitated with State Sports & Adventure Award by Smt. Vasundhra Raje Scindia, the Hon'ble Chief Minister of Rajasthan. He has also performed in the most watched TV programme 'India Got Talent Season 5'.
Dr. Pinnadari Sai Rambabu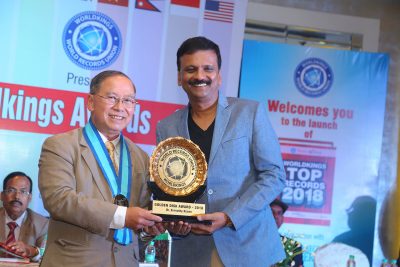 Dr. Pinnadari Sai Rambabu was born on May 05, 1963, at Bellary in Karnatka. He is a professional mechanical engineer, a counsellor, a Leadership trainer and a social worker.
Won't it be startling to know that suddenly one day, an engineering college lecturer changes the course of his life and gives up his job to start serving the humanity. He started his charitable trust and began to serve and uplift the poor, the sick, the addicted and the social outcasts with the unconditional love of the God.
Dr. Rambabu a born generous, had served humanity from the age of 19 without any avidness, avarice or greed, just doing the best whatever he can did with the available limited resources, he had in those college days. Travelling to nearby villages on his bicycle after attending his college to serve the destitute with unconditional love was his daily pursuit. There were times when he used to sleep at railway stations or road sides as it got dark to be back at home after serving the mankind in nearby villages. But, the lack of funds never disheartened him and stopped him from his great mission.
From there, till in these last 28 years, he has escalated himself to a level from where he is touching and serving nations of the world with the unconditional love of God. Today people gather in hundreds and thousands to listen to his inspirational messages that touched and transformed their lives and challenged people to find a purpose and a new direction to their lives. He has addressed over half a million people in single gathering in Gujarat sharing t his life transforming Love.
He is Honored with the Doctorate Degree – Doctor of Divinity from Life Christian University, Tampa, Florida.
He is Awarded with Karnataka Krista Ratna Award (Christian Jewel of Karnataka). He has travelled and trained leaders across the globe in over 56 countries.
Mr. Rakesh Kumar Verma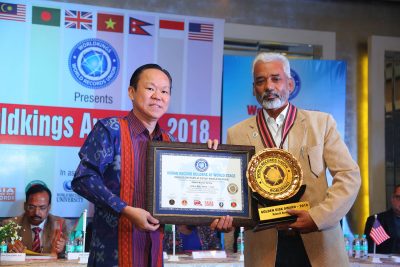 Mr. Rakesh Kumar Verma, born on September 1, 1959, serving in Military Engineering services since 1981, the Founder of 'Dragon Karate Institute' and 'Taekwon-do Federation of Punjab', is the Black Belt in Karate from Indian Taekwon-Do Association (Coimbatore) and the Vice President of 'Taekwon-do Association of India' and Assistant Regional Director of North India, T.A.I.
He learned Japanese style Goju-Kai at Golden Arrow, Officers Institute, Ferozepur Cantt (Punjab) and is an expert in handling snakes, which he just learned out of fun.
He was the Coach of Taekwon-Do Association of Punjab for many Punjab state TKD Teams as for 6th National ITF TKD Championship, for 12th National ITF TKD championship at Panaji (Goa) and for TAP for Punjab state TKD Team for 7th National ITF TKD Championship at Nagpur (Maharastra) along with many other tournaments.
He was the Chief Coach of Taekwon-do Federation of Punjab for Punjab state Taekwon Team, for 1st north ITF Taekwon-do champion ship at Talkatora indoor stadium, New Delhi and for Taekwon-Do Federation of Punjab for Punjab state Taekwon-Do Team for 4th , 8th, 9th and 11th National ITF Taekwon-Do Championship, to name a few.
He was the Chief Tournament Director for Taekwon-do Association of India for 14th National ITF Taekwon-do Championship.
He is the participant and Team Manager of many National and International Taekwon-Do championships including Tokyo (Japan), Melbourne (Australia), London (England) and at Benidorm (Spain) to mention a few.
Dr. Pradeep Bhardwaj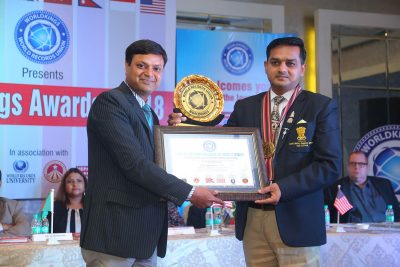 Dr. Pradeep Bhardwaj, an alumnus of IIM Ahmedabad, a renowned author, a speaker and a pioneer in hospital and health care management is the CEO & Director of 'Six Sigma Star Healthcare', Delhi along with being an advisor at Board of management in various hospitals.
He is the recipient of 10 National and 5 International awards like – Limca Book of Records -2017, National eGovernance Award 2016-17 by Govt. of India, Limca Book – People of the Year – 2017, Asia Hospital Management Award – 2016 and India Express Healthcare Management Award 2016.
He carries a glorious career under his belt. He has served at various renowned hospitals as 'DDU Hospital', 'Apollo Hospitals Group', 'Fortis Healthcare Group', 'Sir Ganga Ram Hospital' and 'Indian Spinal injuries Centre'. He has enlightened students and imparted his knowledge in many leading colleges and universities as IIM-Lucknow, IIM-Ahmedabad, Global Institue, Amity University, Symbiosis International University, National Board of Examinations etc. as a Visiting professor. He has been to over 500 symposia as Jury, faculty, Chairperson, Key Note Speaker and Chief Guest at National and International platform.
Presently, he is in healthcare industry at the India's Largest healthcare management company, the 'Six Sigma Star Healthcare Limited' in addition to 'High Altitude Medical Rescue Services', 'Six Sigma Healthcare Magazine' and 'Global Institute of Healthcare Management', Delhi.
Subramanian Manickam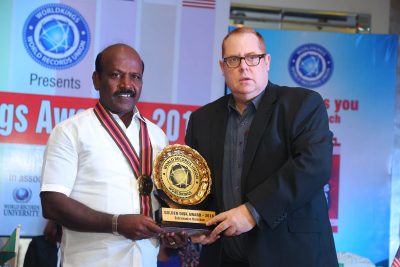 Subramanian Manickam was born on June 1, 1959 in a small village. An MLA from Sadipet constituency, Tamil Nadu, is known for his endurance and the most daunting feats he does in spite of all odds.
The nature challenges the man and there are very few who rise to the occasion and make it their strength, rather becomes a trend setter and an idol for the entire human race. Subramanian Manickam was exactly meant for the same.
He was diagnosed with Diabetes at the age of 36 and met a deadly accident at the age of 42 leaving his knee smashed to pieces. He under went knee surgery, took to yoga and started running short distances in spite of his doctor's advise and finally his warning for not risking his leg by running. But the destiny has something else for him. The History has proved now and then that the efforts never goes in vain and so was for him. He completed his First Half Marathon of 21.1 km at the age of 52. And then he never looked back and started participating in half marathons in different states and countries. He became the proud record holder for 'India Book of Records' and 'Asia Book of Records'.
Dr. Subramonian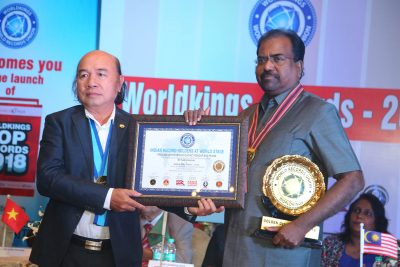 Dr. Subramonian is a highly experienced professional academician, researcher, consultant and trainer since 1990 in association with renowned international and local organizations in various disciplines like Management, Mind Management, One Minute Management, Time Management, Thinking Skills-Learning etc.
He is a Guinness World Record Holder in Online Teaching for teaching 1934 students from 16 countries worldwide and was felicitated by Dr.A.P.J.Abdul Kalam, The Hon'ble Ex-President of India. He is also a Guinness World Record Holder in Fastest Animation and a National Record Holder in Continuous Teaching for 61 hrs 35 minutes. He was accorded with Man of the year 2012 in Education by American Biographical Institute, USA and Outstanding Intellectual of 21st Century 2012 by International Biographical Centre, London.
He has Doctoral Degree in Commerce (Ph.D.). Presently he is the Dean-Research of University of Azteca, Mexico, the Chancellor of Evergreen Christian University, USA, the Honorary Adviser of University of Atlanta, USA, the Eminent Resource Person, AIR, Government of India and a Trainer at IIRM, India.
Dr. Prem Prakash Mittal
Dr.Prem Prakash Mittal, born on June 4, 1949, at Sirsa , a small town in Haryana is the Founder and Director of 'A-Z Engineers Pvt. Ltd.', along with being a Lead Auditor of 'Indian Green Building Council', Hyderabad, an Accredited Energy Auditor, Fellow of 'Institution of Engineers', 'Institution of Valuation', 'Institution of Electronics and Telecommunication Engineers', a Life Member of SEEM, 'Solar Society of India', 'AEE Atlanta', Washington, DC and 'Indian Society of Lighting Engineers'.
He is an inbuilt Legend with a Doctorate and MBA and was awarded, appreciated and felicitated numerous times nationally and internationally. He was felicitated by Hon'ble Prime Minister of India for being first in MSME Micro Services and was awarded MSME Micro Services Award – 2013. He is the recipient of the 'Legend in Energy' Award for Asian Sub-continent from 'AEE Atlanta' at Washington, DC along with 'Energy Engineer-2016' of South-East Asia sub-continent.
He has been awarded with 'Letter of Appreciation' from the Hon'ble Chief Minister of Haryana, from Deputy Commissioner, Faridabad, from 'Institution of Engineers' on Energy Day, from Secretary, MSME, from Secretary Power, Haryana and from Minister of State for MSME too. He is the winner of 'National Energy Conservation Award' in 2013, 2015 and 2016.
He had served 'Haryana State Electricity Board' and DHBVN (Power Distribution Company) for 37 years before retiring as an Executive Engineer. Later on he embarked on his own venture as 'A-Z Engineers Pvt. Ltd' in 2012. He has conducted more than 1100 Energy Projects as on date.